BTI COLLEGE RELOCATES TO KISERIAN
Buruuj Training Institute (BTI) has relocated to Kiserian. Before then, the College was operating 7KM away in Ongata Rongai.
The College is now located along Mugima road, 190 meters Off Magadi road, turning right at Valley high school. Slightly past Kiserian girls high school junction before you enter the slope entering Kiserian town. The locals call the area kwa maji.
With Relocation, BTI now offers technical courses such as Fashion & Design, Wiring, Catering, Building & Construction, and other practical courses.
History of BTI
The history of BTI College dates to October 2002.   The founders of BTI college started a makeshift training in computer application, typing, and graphics design from their Hostel room at Moi University, Main Campus.
In July 2006, the College was formerly registered under TJ Computer College and commenced Computer Training in Sotik Town, Kenya. In 2008, TJ Computer College relocated to Nairobi and continued offering computer courses. In 2015, the College gave birth to Tijara Consultancy.
Tijara offers Strategic Management and Islamic Finance Training with a bias toward short-term courses targeting corporates, Saccos, and Microfinance Institutions. The growing demand for technical, academic, and professional training gave rise to the Buruuj Training Institute (BTI), which admitted pioneer students in 2021.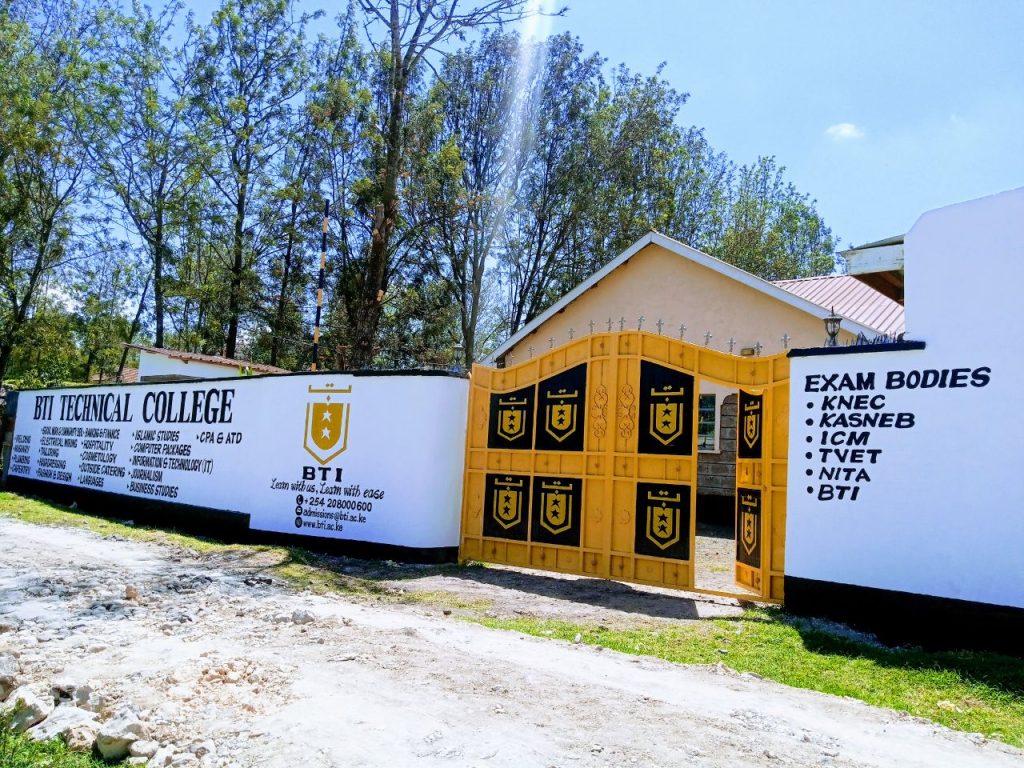 BTI Courses
BTI offers Business Studies, Banking & Finance, Cooperative Management, Computer & IT, Languages, Social Work & Community Development, Journalism, Building and Construction, Electrical Engineering, Hospitality, Fashion and design, Carpentry, Cosmetology, Islamic Finance, Islamic Studies, and dozens of short courses. BTI also has a robust Consultancy department.
Mode of Teaching
BTI classes are offered Online, Physically, and in hybrid mode. The Main campus hosts technical courses. We have spacious classes and a well-equipped computer lab. Online students learn through our interactive online Learning Management System (LMS) and get information about the College through the student portal. In addition, we have a robust e-Library resource for the students.
BTI Management and board comprises a very experienced team. It has a board comprised of individuals with decades of experience in corporate and education. The board of directors is from Kenya, Ethiopia, and Tanzania.
Learn with Us, Learn with Ease