BURUUJ TRAINING INSTITUTE LAUNCHES SWAHILI LANGUAGE COURSE AS AFRICAN UNION ADOPTS IT AS AN OFFICIAL WORKING LANGUAGE
By Khadija bint Hassan
In February 2022, the African Union's Heads of State approved Swahili as an official working language for the bloc.
With its origin in East Africa, Swahili is spoken by over a 100million speakers spread over 14 countries.
According to the UN, the language is spoken in Tanzania, Kenya, Uganda, Rwanda, Burundi, DRS, South Sudan, Somalia, Mozambique, Malawi, Zambia, Comoros, and as far as Oman and Yemen in the Middle East
In addition, the United Nations Educational, Scientific, and Cultural Organization (UNESCO) has designated July 7 as World Kiswahili Language Day.
In addition, Swahili is now a teaching language in several African countries. Among the institutions undertaking Swahili Language training is Buruuj Training Institute.
The Swahili Language course at BTI is streamlined to follow the Common European Framework of Reference (CEFR) for Languages
The Pan African eLearning Institute for Businesses, Entrepreneurship, Islamic Finance, Qur'an, Islamic Studies, Languages, and corporate courses already has several running courses.
Other language courses offered at the institute include Arabic, Burji, English, and French.
Found in 2006, the institute started as a computer college and later focused on corporate training. In 2020, BTI introduced academic, professional, and language courses.
Its main office and physical campus are located in the Nairobi Metropolis town of Ongata Rongai.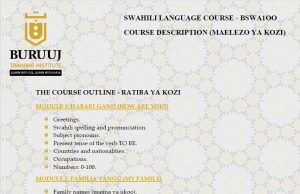 Section of BTI Swahili language syllabus