BURUUJ TRAINING INSTITUTE ROLLS OUT ONLINE ISLAMIC STUDIES PROGRAM
By Dr. Maulid Makokha
BTI, the Pan African eLearning Institute for Businesses, Entrepreneurship, Islamic Finance, and Language courses, has launched one more program from the bouquet of courses it plans to offer.
On 1st November, the Institute commenced the Islamic Studies program for the first batch of twenty students.
The launch is in addition to Arabic Language and Burji Language courses which are currently ongoing.
Before the close of the year, the Institute plans to launch an Information Technology (IT) program.
The program will be taught physically at the Main campus located in the Nairobi Metropolis town of Ongata Rongai.
The Islamic Studies Program takes two approaches.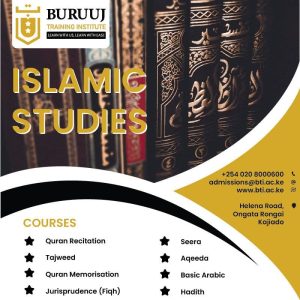 FIRST APPROACH
The first approach is an online Quran-only program. The Qur'an program covers both kids and adults.
The study of the Qur'an is individualized, with each learner getting their tutor. Female tutors are available for ladies.
In this area, the learner studies Quran memorization, recitation, basic Tafseer, and basic Tajweed.
To take care of those who are not sure, the Institute offers three trial lessons after which the learners can decide.
The monthly fee for this area is Ksh. 1500 or USD 15.
SECOND APPROACH
The second approach is a full bouquet of the online Islamic Studies Program.
This program is designed to help our learners get Islamic Studies knowledge.
The Qur'an studies students will be gradually introduced to the full Islamic studies program.
Students are taught Sira (Islamic History), Aqeeda, Fiqh, Basic Arabic, Usul Fiqh, and Hadith at each level.
The complete Islamic Studies Program has eight levels. Each level takes two trimesters.
The standard fee for Islamic Studies is kes. 12,000 or USD 120 per trimester.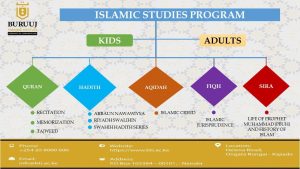 HOW TO JOIN
Those interested can apply via the application link: https://bti.ac.ke/apply-now/admision/. More information is available on the Institute's website. 
Read more about Buruuj Training Institute