YOU CAN NOW LEARN THE ARABIC LANGUAGE FROM THE CONVENIENCE OF YOUR HOME
By Khadija Hassan
The Nairobi Based Buruuj Training Institute has launched an online Arabic Language class.
The online classes are conducted through a customized, robust android based mobile phone application.
The classes are flexible and friendly.  The days and class times are agreed upon between tutors and the students.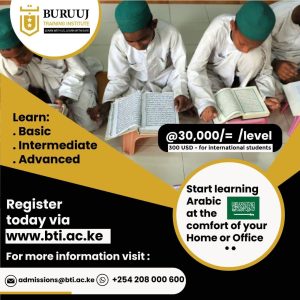 The course has been designed to take six levels: absolute beginner, elementary, pre-intermediate, intermediate, advanced, and proficiency.
Each level takes between three to six months based on the intensity training will take six months.
At each level, students learn subjects such as reading, writing, speaking, and Arabic grammar.
The language is taught by the best tutors who hold Arabic language training from renowned global institutions such as the Islamic University of Madina.
After completing the first level, students are expected to understand basic grammar and converse in the language.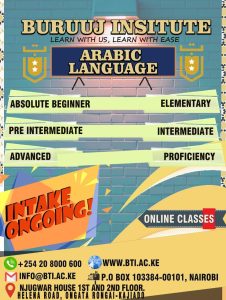 In addition to the customized android app, Buruuj Training Institute has an e-library with rich reference materials about the Burji.
Those interested in joining the Institute can do so through https://bti.ac.ke/apply-now/admision/